Forklift training isn't just about learning to drive a forklift safely and efficiently, its also learning and understanding the proper uses and procedures for the forklift attachment or attachments your business in Vancouver, Surrey, Langley or anywhere in the Lower Mainland is using. Caution should always be exercised when using various attachments by taking into account their center of gravity. Every business and worksite is different and needs different attachments to get the job done, lets take a look at some of the most common forklift attachments we might cover during forklift training at your place of business.
SIDE SHIFTERS:
The side shifter attachment allows the operator to shift the forks from side to side allowing for small adjustments, enabling alignment with pallets without having to maneuver the forklift. Side shifters are the most common attachment used on forklifts today and are a standard attachment on most forklifts.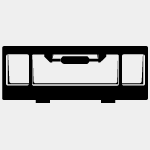 FORK POSITIONERS:
The fork positioner attachment allows the forklift forks to be moved inwards and outwards hydraulically rather than physically, allowing for faster handling of different sized pallets and loads. Fork positioners are a very common attachment used on forklifts today as they enable the operator to align the forks with pallet size significantly faster and accurately.


FORK EXTENSIONS:
Forklift fork extensions are used when uniformed loads exceed the length of your forklifts existing forks, making it easy to transport loads from one location to another. Operators will learn during Forklift Training that when using fork extensions the capacity of the Forklift will be decreased, sometimes dramatically depending on the length of the extensions.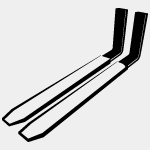 PAPER ROLL CLAMP:
Paper roll clamp attachments use a rotater with a direct worm/ring gear drive and clutch brake system, allowing the clamps to rotate up to 360 degrees. The attachment is suitable for lifting horizontal or vertical paper rolls in a large range of sizes, and the 360 degree rotation prevents damage when placing rolls down onto unlevel surfaces. Paper roll clamps are available with either 180 degree or 360 degree rotation.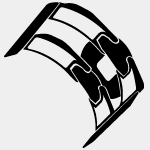 FORK HITCH RECIEVER:
Forklift hitch receivers attachments come in different variations. The hitch receiver attachment is used to tow or move trailers and other towable implements with a forklift safely and efficiently.


APPLIANCE CLAMPS:
The forklift appliance clamp attachment is used to transport and stack goods without pallets, such as washing machines, refridgerators, dryers and dishwashers to name a few. Appliance clamp attachements come in a rigid or flexible version. By using an appliance clamp it becomes possible to handle these products safely, and avoid damage to these goods.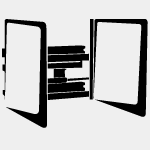 ELEVATED WORK PLATFORM:
The Forklift elevated work platform attachment is used to lift/elevate workers to perform tasks at high heights such as changing lights, painting, roof repair etc. Elevated work platforms can come equipped with various safety features, including but not limited to , handrails, drop locks, spring loaded inward closing doors, non slip floors , mesh wire backs and double chain doors. The majority of forklift elevated work platforms are manufactured with a rated capacity of 300kgs. It is important that Forklift operators and the workers inside the platform are trained on the safe work procedures of using this attachment. The safe work procedure for using this attachment is covered thoroughly when attending one of Robs Forklift Training courses.


DRUM CLAMPS:
The drum clamp attachment consists of two clamping arms that adapt to the shape of various drums and can come manufactured to also rotate and tilt forwards. This attachment comes manufactured either to clamp and transport one drum or to clamp and transport two drums simultaneously.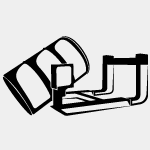 JIB CRANE:
Turn your forklift into a crane with this attachment. The jib crane attachment comes manufactured in either swivel or rigid designs and easily attach to your forklift to lift and lower loads that are not suitable for pallets or have unusual dimensions. jig crane attachments are either fork mounted or carriage mounted and have a capacity range of 1000kg to 5000kg.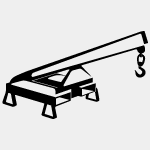 SWEEPER:
Dirt and debris is cleaned and cleared mechanically by means of two brushes and a vacuum fan. The sweeper attachments are typically diesel or manually operated. The rotating brushes are usually located on the right side of the sweeper attachment and under the forklift.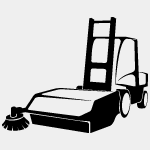 FORK CLAMPS:
The Fork Clamp attachments are designed to operate as both a clamp and fork positioner. When dealing with awkward loads such as tires and barrels, you can use this attachment to clamp them between the forks. You can use this attachment to lift and transport conventional pallets, wide loads and can also clamp loads that are not on pallets by either using the forks alone or with slip on arms.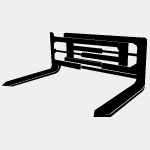 LOAD STABILIZERS:
The Load Stabilizer attachment is used to ensure safe and rapid transport of loads over uneven terrain by stabilizing the load. With an integrated side-shift, loading time can be reduced significantly. To prevent damage to the load , the attachment is coated in rubber and the pressure is exerted and regulated on the load/product in small steps.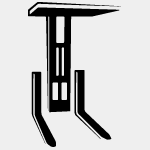 ROUND TIMBER GRIPPER
The round timber gripper forklift attachment enables a forklift to safely transport timber logs. There are two versions of this attachment in the market, ordinary wood grip and the one armed timber grab. The wood gripper can usually do well with lifted loads, with the one armed gripper only a fork is needed to transport the timber. This forklift attachment is mostly used in the forestry industry and can be hydraulically operated.


CARPET POLES
The carpet pole attachment is used to transport rolls off carpet safely and efficiently.


Our certified trainer is mobile and we offer onsite forklift training and aerial lift training anywhere in the lower mainland. If your interested in our onsite forklift training services don't hesitate to get in touch with us or follow the links below for more information.