Each part and component on a counterbalanced forklift is designed to perform a specific job and the safe operation of a forklift includes the operator understanding its moving parts, its capabilities and limitations. Being familiar with the forklifts main parts and components is also vital when it comes to the operator conducting there daily pre-trip inspections. Counterbalanced forklifts main parts and components are thoroughly discussed during our counterbalanced forklift training program.
MAST.
The mast is the system in a forklift that supports the vertical (up/down) load lifting motion. The mast is composed of a fork and elevation mechanism and is associated with the forklift hydraulic system assembly. There are four types of forklift masts, each type of mast presents its own set of advantages for different lifting height requirements.
SINGLE STAGE ( SIMPLEX MAST)
The single stage mast has only one channel, and can lift loads to limited heights. This type of mast is frequently used in outdoor settings where overhead clearance is not a concern.
When loads need to be double stacked the two stage mast is an optimal choice, as they provide excellent visibility and are ideal for use in trailers.
THREE STAGE ( TRIPLEX MAST)
The three stage mast is the most popular and versatile mast used on counterbalanced forklifts today. The triplex mast enables the forklift to load and unload at higher elevations and is ideal for stacking loads no matter what industry it is used in.
The four stage mast provides high stacking capabilities. These masts are specifically designed for very high stacking in specialized warehousing.
LOAD BACKREST OR EXTENSION.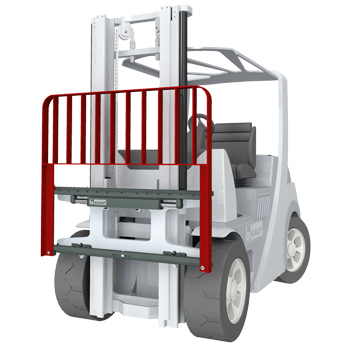 Steel load backrests/extensions are designed to prevent the forklifts load from shifting backwards when the carriage is lifted, particularly when the load is made up of loose materials that could fall back onto the operator. Load backrests/extensions are manufactured in two styles, front mount and side mount. The front mount backrests are built with a full length, front mount plate while the side mount versions are bolted on to the side of the forklifts carriage.
THE COUNTERWEIGHT.


The counter balanced forklift counterweight is attached and located at the back of the unit. They are put in place to secure a proper weight distribution to maintain the lift trucks stability, preventing the truck from tipping forward when picking up a load , and ensuring the safety performance of the forklift. Forklift counterweights are made of either full cast iron, full concrete or a combined mix of metal and concrete.
CARRIAGE.


The lift trucks carriage supports the forks or lifting attachment being used, it is a platform located at the front of the forklift mast. Forklift carriages are manufactured in five different carriage classes, each has there own capable lifting capacity.
Carriage Height: 13"
Lift Capacity: 2200 lb or less.
Carriage Height: 16"
Lift Capacity: 2200 lb – 5500 lb
Carriage Height: 20"
Lift Capacity: 5500 lb – 10,998 lb
Carriage Height: 25"
Lift Capacity: 11,000 lb – 17,600 lb
Carriage Height: 28.66"
Lift Capacity: 17,602 lb – 24,198 lb
TILT CYLINDERS.


A lift trucks hydraulic tilt cylinders are attached to the upright channels on either side of the forklifts mast. The lift truck tilt cylinder is a double-acting hydraulic cylinder, meaning it will push and pull its load. The tilt cylinders are activated by the forklift operator and control valves.
FORKLIFT MAIN LIFT CYLINDERS.


Forklifts use a single cylinder in the center of the mast that raises the forks and first stage of the mast, and have two more cylinders behind the mast to raise the remaining stages. Main lift cylinders are single acting hydraulic cylinders, pushing in only one direction (up) raising the mast, forks and backrest, gravity bring them back down.
OVERHEAD GUARD.


A lift trucks overhead guard, also known as a falling object protective structure ( FOPS), is a very important safety device and is required on all high lift trucks for the protection and safety of the forklift operator. Overhead guards (FOPS), have helped to protect forklift operators from falling debris and materials since its first development in the 1960's.
DATA PLATE.
The forklift data plate, also known as the capacity plate will and must list all the important information relating to the mechanical capabilities of that particular lift truck and other important specifications.

Forklift Model Number
Forklift Serial Number
Mast Type
Fuel type
Back Tilt
Attachments
Front Tread
Tire Size
Truck Weight
Forklift Diagram ( Data Points)
A – Load Center ( Fork Size/Length)
B – Load Center
C – Max Lift Height
D- Side Shift ( If Applicable)
Capacity – Max Lift Capacity
11. Warning ( Trained Operators Only)
DRIVE WHEELS AND AXLE.


A lift trucks drive wheels and axle are located at the front of the truck, providing the necessary power for the forklift to travel and brake as the front wheels are the only ones equipped with brakes.
STEER WHEELS AND AXLE.
A lift trucks steer wheels and axle are located at the rear of the truck. The rear wheel steering allows for very sharp turns and pivot point steering, primarily because forklifts must maneuver in very tight spaces.
If your business is in need of forklift training and want to learn more about our onsite forklift training in Surrey, please don't hesitate to get in touch with us.